Buffer Strip Mixtures
Buffer Strip are easily established and used for a wide variety of beneficial purposes, Most commonly they are used create a buffer strip margin around the field, or alongside a river that provide a physical barrier which helps slow the flow of water and runoff from fields into the water course. They can also be used within the field to protects large tree or obstacle e.g. telegraph poles, Awkward field corners or even in whole field situations.
The buffer strips also create a new habitats while protecting existing ones. The wild flowers options provide a essential nectar food source for a vast range beneficial insect that include your butterflies and bumblebees.
These mixtures can be Sown from March until October and used as part of Countryside Stewardship Scheme (CCS) ELS , HLS, Mid-Tier & Higher Tier. 
DISCLAIMER: In any instances where there are shortages of specified species we reserve the right to substitute equivalent species.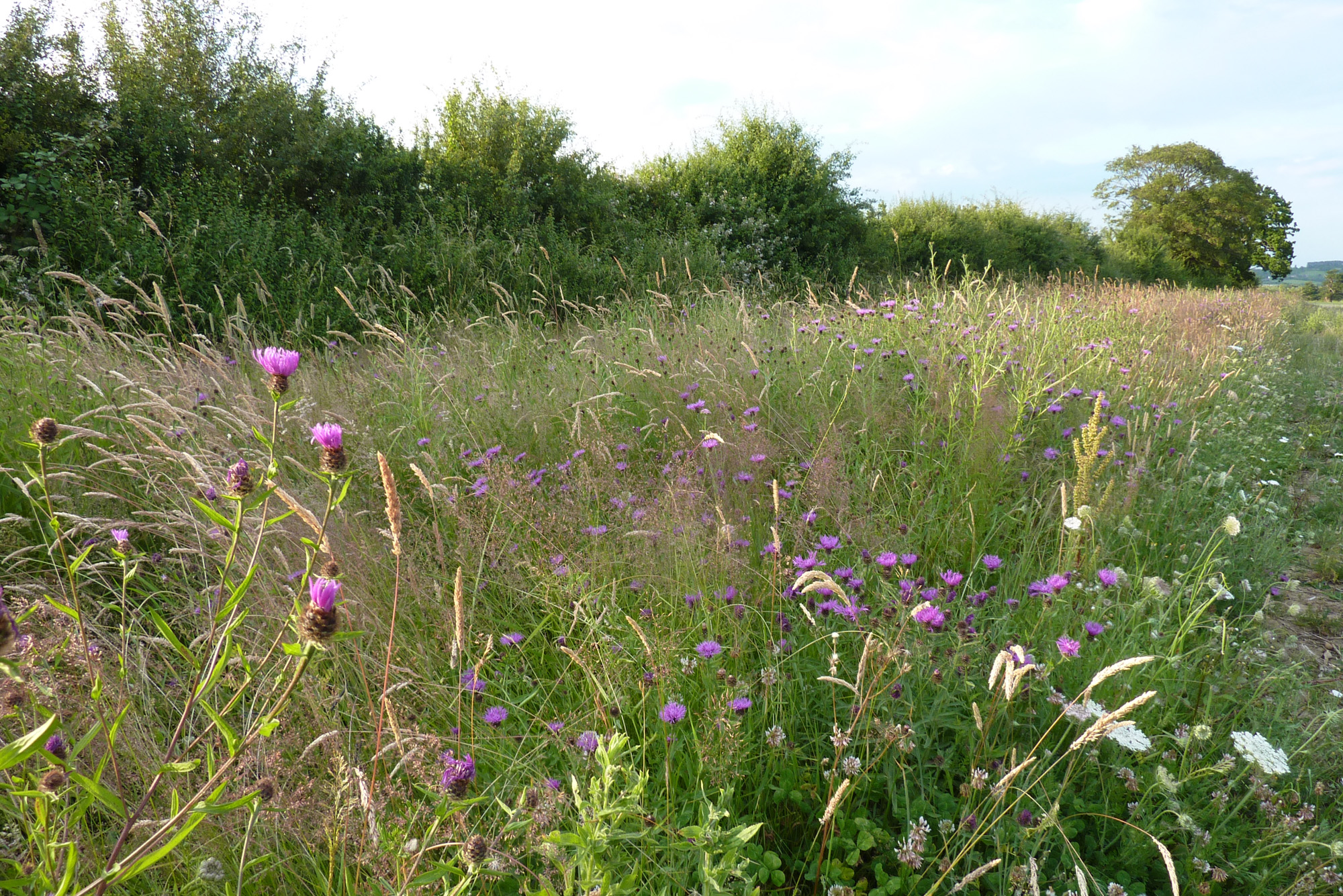 BGM 4 with Wild Flowers & Fine Grasses
BGM 1 with Cocksfoot

35% Creeping Red Fescue
25% Cocksfoot
20% Tall Fescue
15% SSMG
5% Timothy
100%

Sowing rate 20kg/ha
Pack size 20kg

BGM 1 RC Red Clover and Cocksfoot

30% Creeping Red Fescue
25% Cocksfoot
20% Tall Fescue
15% SSMG
5% Timothy
5% Red Clover
100%

Sowing rate 20kg/ha
Pack Size 20kg
BGM 2 no Cocksfoot

27% Creeping Red Fescue
22% Chewings Fescue
22% SSMG
22% Tall Fescue
7% Timothy
100%

Sowing rate 20kg/ha
Pack size 20kg


BGM 2 RC Red Clover no Cocksfoot

27% Creeping Red Fescue
22% Chewings Fescue
22% SSMG
17% Tall Fescue
7% Timothy
5% Red Clover
100%

Sowing rate 20kg/ha
Pack size 20kg


BGM 3 with Cocksfoot & Clover

27% Creeping Red Fescue
22% Tall Fescue
17% Cocksfoot
17% SSMG
7% White Clover
7% Timothy
3% Birdsfoot Trefoil
100%

Sowing rate 20kg/ha
Pack size 20kg
BGM 4 with Wildflowers
& Fine Grasses
90% Grass 10% Wild Flowers
(CCS Code AB8)

45% Creeping Red Fescue
15% Chewings Fescue
15% Hard Fescue
15% SSMG
3.25% Sainfoin
3% Vetch
1% Alsike Clover
1% Red Clover
0.5% Birdsfoot Trefoil
0.25% Oxeye Daisy
0.25% Plantain
0.25% Sheeps Burnet
0.25% Wild Carrot (N)
0.25% Yarrow
100%

Sowing rate 16 - 20kg/
Pack Size 10kg
BGM 5 with Ryegrass
Ryegrass seed set as winter food
for birds
40% Italian Ryegrass
30% Inter. Perennial Ryegrass
30% Late Perennial Ryegrass
100%

Sowing rate 35kg/ha
Pack Size 20kg
Flower Rich Margin Mixture
80% Grass 20% Wild Flowers
(CCS Code AB8)

25% Slender Red Fescue
25% SSMG
12% Chewings Fescue
10% Crested Dogstail
5% Hard Fescue
3.5% Winter Vetch
3.25% Sainfoin
3% Browntop Bent
2.5% Birdsfoot Trefoil
2% Black Medick
2% Red Clover
1.25% Oxeye Daisy
1.2% Wild Carrot (N)
1.2% Yarrow
1.1% Black Knapweed (N)
1% Plantain
0.5% Musk Mallow
0.25% Selfheal (N)
0.25% Ladies Bedstraw
Sowing Rate 16-20kg/ha
Pack size 20kg
(N) = Native species