Farm Saved Seed

Harlow Agricultural Merchants Ltd (HAM) provides a professional mobile seed cleaning processing service in conjunction with Premier Seeds, with whom a strong trading relationship has been established over the last 25 years. Thus HAM offers growers an efficient, economical and timely option to aid establishment of new crops.
The Benefits of saving your own seed?
You as a grower are benefiting by reducing your input costs, improving quality and controlling timings, thus offering financial savings whilst improving quality, reducing varietal contamination and eliminating drilling delays due to non arrival of certified seed. Together we understand the demands on time and resources at harvest on a modern farm. We trade on service, striving to be on farm on time to process to individual requirements with minimum interference to the farming operation.
How it Works
The processing line consists of input from a ground level hopper (fed by tipped trailer with discharge spout) the seed then will flow down to a double aspirated reciprocating screen cleaner to remove admix or undersized seed, once the seed has been over the screen cleaner the seed will flow up and onto a large gravity separator where the seed be sorted, the gravity separator will reject all the lighter or damaged seeds leaving the highest specific weight seed to be treated, one the seed has been treated it will then be bag either in bulk bag 500 or 1000 kilo or if you prefer into a trailer.
The Machinery
As original innovators and developers of machinery that has generally become the industry standard, Premier Seeds uses high throughput machinery (8-12 tonnes per hour) which is subject to rigorous maintenance and constant development to ensure a high quality sample is generated for each grower in a reliable and fuss free manner. All the mobile seed cleaners have modern gravity tables that select all the heavier seed filtering out all the small broken and light seed leaving the good high quality and high vigour seed to be treated with the seed treatment of your choice. Once treated, the seed is discharged by conveyors and weighed electronically into either 500Kg or 1000Kg bags or directly into trailers. We offer a full range of seed treatments including Latitude, the premium seed treatment to reduce Take-All.
The Operator
Each machine is operated by a full time employee, NPTC qualified to ACCS requirements, assisted by 2 trained operatives, ensuring a smooth, high quality process requiring minimal input (1 man) from the grower. Our machinery is designed to specialise in the processing of cereals but can be adapted to successfully process crops as diverse as Linseed, Oilseed Rape or Field Beans & peas.
Seed Treatment Trials
Harlow Agricultural Merchants Ltd run extensive seed treatment trials looking at the effectiveness, root development and vigour across several different seed treatments. Choosing the correct seed treatment is key when controlling pest and diseases, getting the very best establishment and enhanced root development will optimise your crop yield's potential.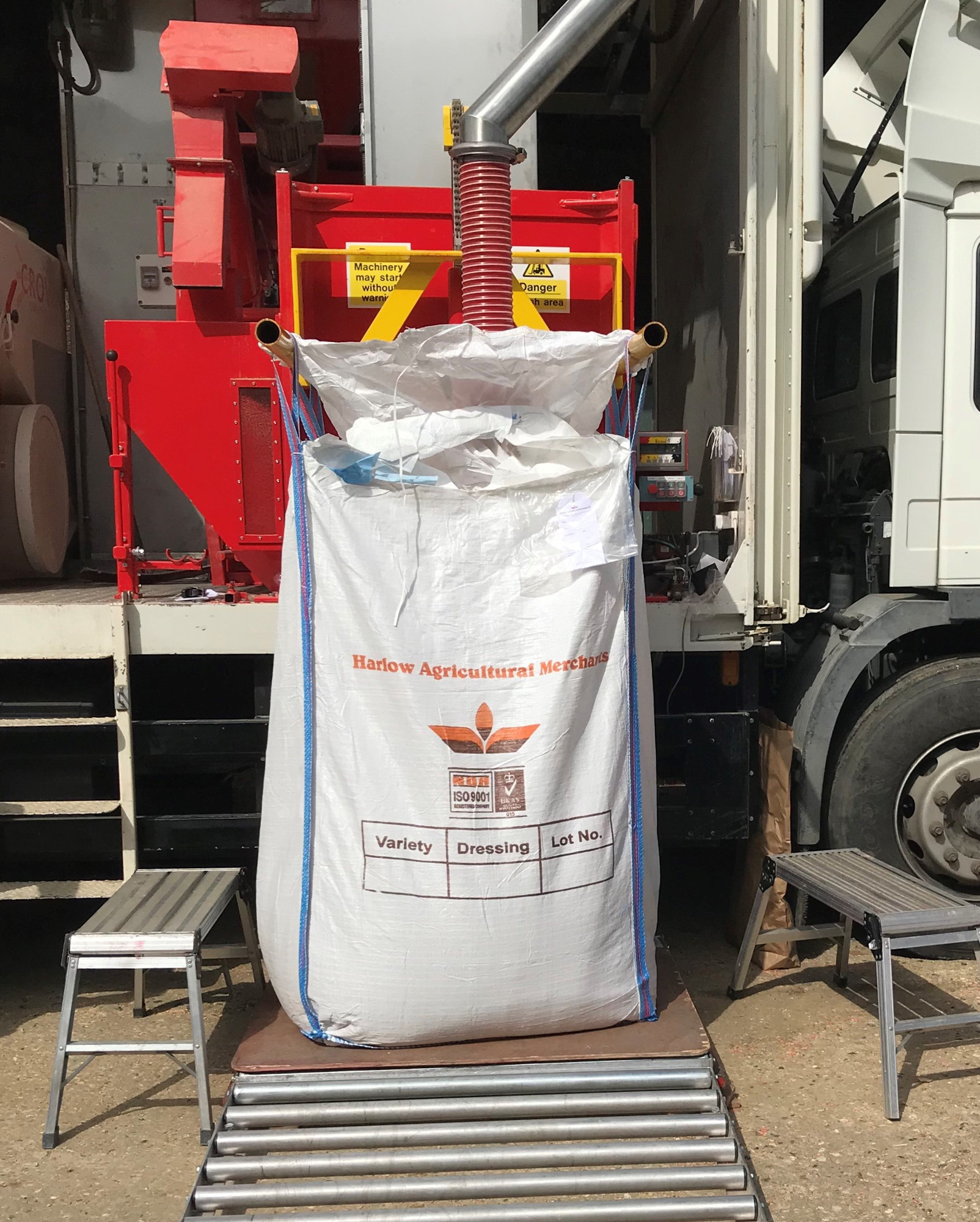 Harlow Agricultural Merchants is part of the FAIR PLAY campaign
Plant breeding provides the essential platform for competitive and sustainable UK agriculture, delivering major advances in the yield, quality and performance of our key arable crops.
Like royalties on certified seed, payments on farm-saved seed (FSS) support the continued investment in the development of improved varieties, bred for UK conditions.