Maize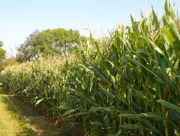 Maize Blend *Best Seller*
A blend of maize with different maturities. In this mixture it contains early, mid and late varieties as cobs ripens at different times this providing cover all throughout the whole shooting season.
Pack Size 1 Acre Packs
"Cobless" Maize
A very late maturity with good standing ability. A cobless maize produces immature cobs that only develops to the "bright white" stage under normal conditions. Due to the late con formation it tend to be of less interested to rats and badgers that can decimate more mature cobbed varieties through the shooting season.
Pack Size 1 Acre Packs
Rapid Fire
Varieties are chosen which have very good standing ability, early vigour and a low cob carriage
Pack Size 1 Acre Packs
Sorghum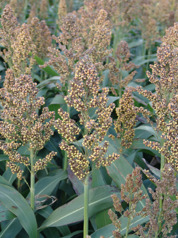 Dwarf Sorghum
Dwarf Sorghum has a short, sturdy, broad leaved stem and substantial seed-head, providing birds with warm cover throughout the shooting season. Often sown as a companion to Maize Plants Average Height 1 – 1.25m.
Sowing Rate 8kg/Acre
Pack Size 10kg
Intermediate Sorghum
Intermediate Sorghum as suggested by it's name is in between giant and dwarf in height, approx. 1.5m. Useful as a windbreak around other game cover crops, its provides pheasants and partridge with protection from overhead predators. Has an attractive seed-head.
Sowing Rate 8kg/Acre
Pack Size 10kg
Giant Sorghum
Giant Sorghum is a sorghum x sudan grass hybrid standing approximately 2 meters tall and therefore is extremely useful as a windbreak to protect more vulnerable crops. its deep rooting system enables it to withstand drought conditions. useful as a flushing 
crop even though it is prone to lodging later in the season.
Sowing Rate 12kg/Acre 
Pack Size 10kg